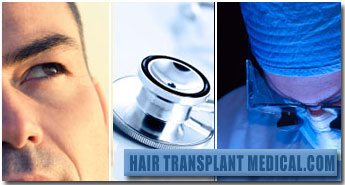 About Hair Transplant Medical
Welcome to Hair Transplant Medical where we provide hair transplant surgery information to individuals considering this procedure as an option for their hair loss. Hair Transplant Medical is an informational web site about hair restoration. We also provide information on the causes of hair loss, treatment options, as well as information on non surgical hair replacement.
Hair Transplant Medical is a consumer organization, the owner of the site is not a doctor. The purpose of this site is to serve as a valuable resource to individuals considering surgical hair restoration, or for those who just wish to learn more about hair loss and other available hair loss options. Hair loss is devastating at any age regardless of gender, and one of the most important things for a hair loss sufferer is to know that there is hope. Realize that both men and women have successfully treated their own hair loss and you do have hope. We are always looking for ways to improve the site for our viewers, please email us at, info@hairtransplantmedical.com with your feedback.
Are You a Hair Transplant Candidate?
In general, hair replacement candidates must have healthy hair growth at the back and sides of the head to serve as donor areas. Read More
Questions To Ask Your Doctor
Read through a list of things to consider while selecting a hair transplant surgeon, and questions to ask your doctor Read More
Finding a Hair Transplant Surgeon
In the United States any licensed physician can perform hair restoration surgery, it is easy to end up with unsatisfactory results. The most difficult thing about hair transplantation, is finding that right surgeon.Read More
Hair Transplant Articles
Read through these articles and papers to develop a better understanding of hair restoration surgery.Read More
Latest Hair Loss News:
Written by admin on July 21, 2012
Spencer Kobren –  LIVE Surgery Bald Truth Event
Spencer Kobren speak live with Dr. Alan Bauman and Dr. B's patient Clear Channel Radio personality Kevin Rolston during another Bald Truth Live hair restroation event.
See more Hair Transplant event on Youtube @ baldtruthradio
http://www.youtube.com/watch?v=UgJzFsLQWgw&list=UUtj2aq9M3i4x5glRJKAx2YA
Written by admin on July 16, 2012
Bald Truth fans had the opportunity to speak with World Fitness champion Monica Brant and TBT host Spencer Kobren during the world's first LIVE streaming hair transplant performed on a women. IAHRS accepted hair transplant surgeon Dr. Dan McGrath performed the procedure on Monica and participated in the live Q&A as well.
Check out more Spencer Kobren videos @ youtube.com/baldtruthradio
http://www.youtube.com/watch?v=0sEadmhCVh0&list=UUSPShGF1uZ7Vo9VHP-f8x5w